Dawn - Dave's friend from Loyola - arrived on his Easter birthday. She visited Portsmouth with us on Easter Monday, where figureheads from old ships were on display all around the city.
Most of the week was spent in meetings or working on their research. (Dawn gave the keynote address at Tuesday's
AstreNet
meeting.) But all work and no play.... On Thursday night they stopped off at Platform 9 3/4 in King's Cross Station before going on a pub crawl with Dawn's friend Marc, who now lives in London. (Marc took me and Dave on a similar adventure in the fall. See "Pub Crawl" from 16 October.)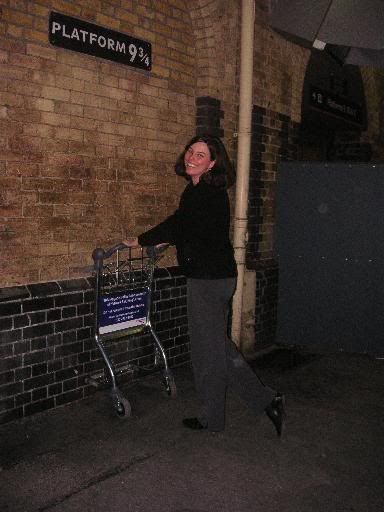 Dawn was looking forward to flying home out of Heathrow's new Terminal 5. But with its disastrous opening on Thursday, her Saturday flight left from Terminal 4 instead. Our bus from Woking doesn't even stop at that terminal anymore, but it did get her to the airport!