Location, Location, Location. Our old flat was within an easy walk of school, the train station, church, and the amenities of town. That's why we chose the new flat as well. Looking right from our balcony, you can see the south entrance to the station. It's also where the buses that shuttle between Woking and Heathrow arrive (and depart!) every 30 minutes.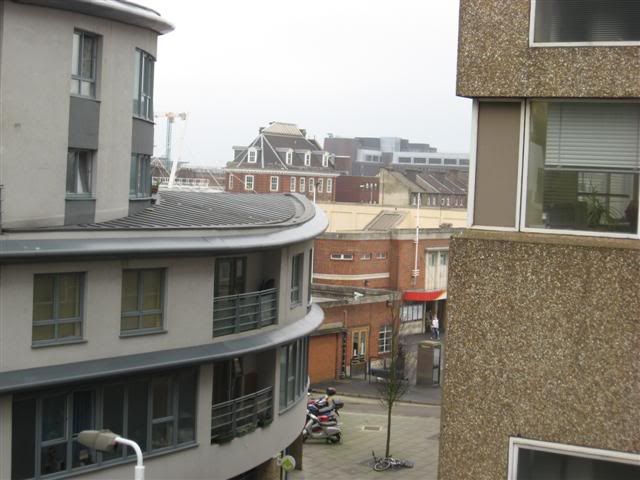 Looking left, you can see the trains themselves. The one on the left is heading into London. There is frequent high speed service into Waterloo Station with a journey time of only 27 minutes. (We ventured into London by rental car soon after we moved here. It was a quiet Sunday morning (thus no congestion charge and free parking), but we drove for over an hour. Never again....) The train on the right is heading out to Basingstoke, and then continuing in any number of different directions. Our trips that way have included Oxford, Salisbury, and Winchester.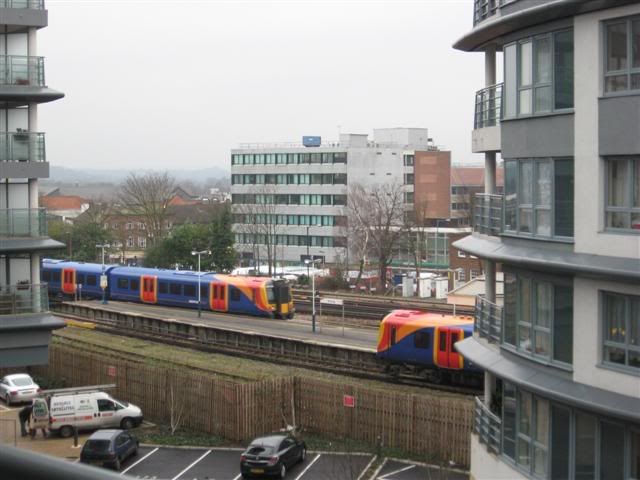 The first year after Dave and I got married, our apartment backed up to the Rapid in Cleveland, as well as a commercial train line. These trains are much quieter! So we're looking forward to the view from our new flat. But I'm sure Dave already misses our old flat and the Dumpy Bins guy....