Last Thursday, Dave flew to Cleveland for the CWRU Science Fiction Movie Marathon (a beloved tradition of his for about 30 years) and a visit with his parents. This was his first ride on the shuttle bus between Woking and Heathrow, and it left Chris here on his own for the weekend. I returned from Baltimore on Monday. (Erin drove back to school on Saturday and Sunday, staying overnight in NJ with Aunt Sue to break up the trip. Erin seems to be getting over the mono - finally - but is still not 100%.) Not surprisingly, Chris had managed just fine for those few days, and the flat was in good shape after its 3 weeks of "man time."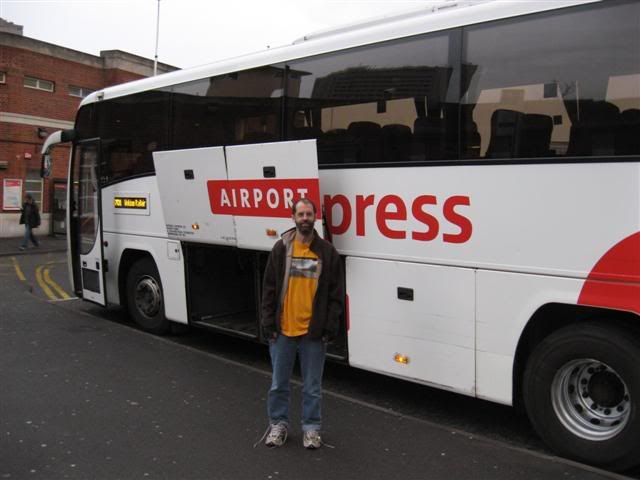 As I've mentioned before, the bus pulls in right outside the train station. This allows people to easily continue their journey by train, or retrieve their vehicle from a nearby car park. In our case, it was just a short walk back to our first flat, and it is now an even shorter walk back to our second flat.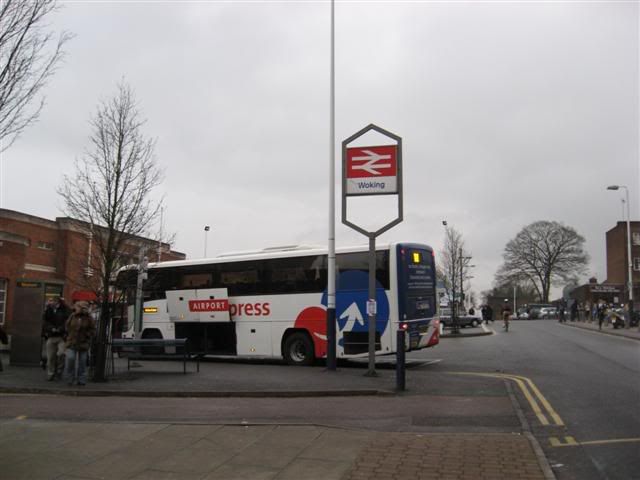 Taken from the bus stand, you can see our building (the blue and white one), and even the window to the master bedroom (third floor of the white part, first one on the left). The windows to Chris' bedroom and the lounge (living room, dining room, office) are blocked by the brown office building, which is also what we see from our other lounge window that faces it.