Close - I'm standing in the middle of the A320 (Guildford Road), looking north toward Woking's town centre. Just past the parked white van on the right is Mountside Place, which is where we used to live. Although it is situated on the corner of Guildford and Heathside Roads, access to all of the flats is from Heathside. The brick building with white trim just beyond it is the Surrey Police Station, home of the Dumpy Bins! (See "a tale of two views" from 10 January.) The cream coloured building with chimney on the left is The Sovereigns. (See "Happy New Year!" from 2 December.) Even without an internet connection, it remains one of Dave's favourite pubs - perhaps because of the 2 fireplaces....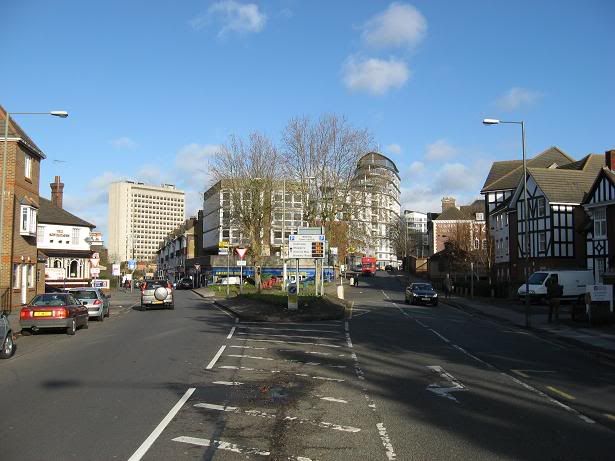 Closer - On the far right you can see the front of a car on Heathside Road. That is the direction our old flat faced, with a great view of the police station (and those Dumpy Bins!) across the street. All of the cars that are heading toward me are on a section of road appropriately named Station Approach. If you were to head that direction, you would soon pass our new flat on your right, and end up at...the train station!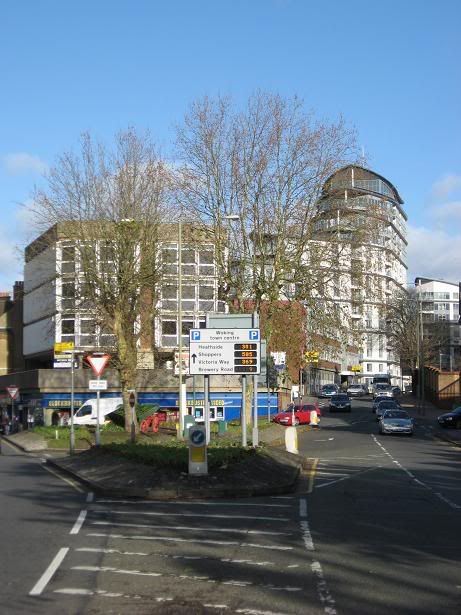 Closest - Yes, that really is a Blockbuster Video store! It is located at the southern point of a large triangle of buildings. And for reference (again), our old flat is right by that southern point, while our new flat is right by the northeastern point.