We even like the name! Based on a recommendation from friends, this was the destination of our day trip yesterday. Dave and I hopped on a train at Woking heading southwest toward Portsmouth Harbor, and less than an hour later we switched trains at Havant for the short journey east to Chichester. It's an old Roman city, and the "Walls Walk" is still clearly marked around the perimeter.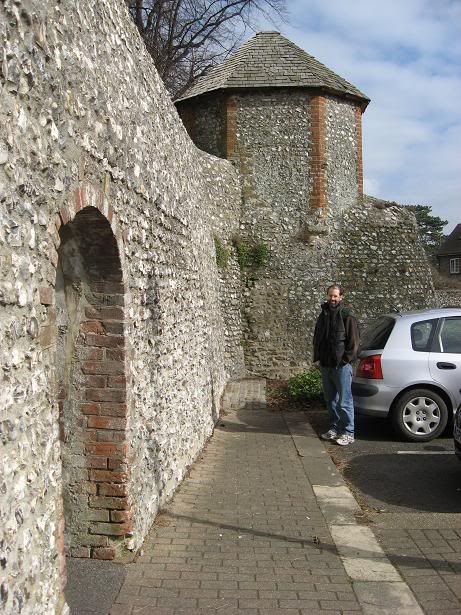 At the centre of town stands the Market Cross, where North, South, West and East Streets all meet.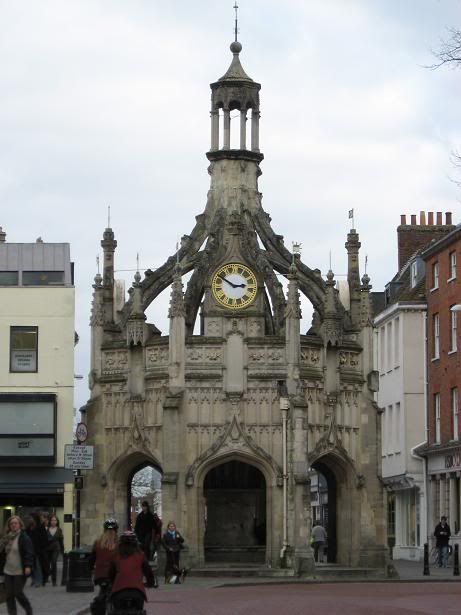 Is there a cathedral in Chichester? Why yes, as a matter of fact there is, and it was dedicated a mere 900 years ago in 1108. This picture was taken from the bishop's palace gardens, open to the public. The brick and stone building in the foreground is the palace (Latin
palatium
, an official residence). To the left stands the detached medieval bell tower, and this is the only English cathedral to still have one.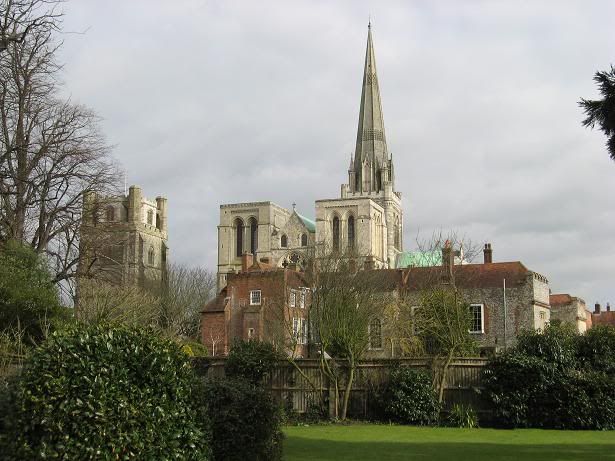 St Richard was the Bishop of Chichester from 1245 to 1253. His shrine is on the opposite side of the high altar in the retroquire, and a recent statue of him can be found just outside the west entrance to the cathedral. If you're familiar with the song "Day by Day" from
Godspell
, you'll note the similarity to part of St Richard's most famous prayer.
Inside the cathedral is an unusual amount of 20th century artwork. This includes the tapestry behind the high altar, designed by John Piper and installed in 1966. Dave thought his mom would like this! The subject is the Holy Trinity, in whose honour the cathedral is dedicated. The sun represents the Father, the cross the Son, and the wing-like flame the Holy Spirit. Flanking the central motif are the symbols of the 4 evangelists and the 4 elements of creation.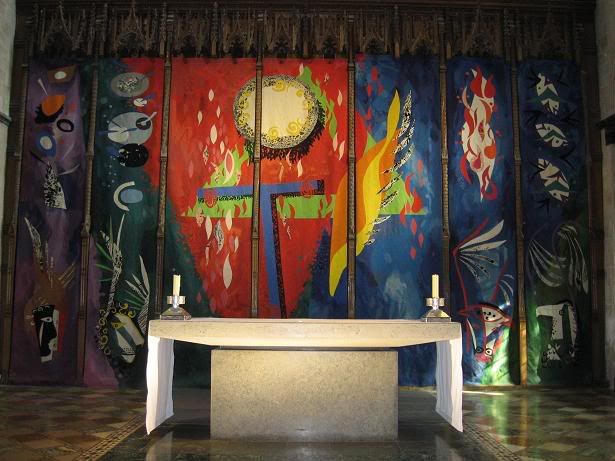 On Thursday evenings the Pallant House Gallery remains open late with half-price admission. Modern art really isn't our thing, but we strolled through the new wing (partially visible on the left) before enjoying a free themed tour. The focus this week was on the architecture of the original 18th century house itself (built 1712-13), as well as the early art and furnishings - much more to our liking!
Funny coincidence - I was flipping channels (all 5 of them) this afternoon when I came across
Rosemary & Thyme
. It's a cute show I've seen once or twice before. The title characters are gardeners who also end up solving mysteries. In this episode, they are hired to restore a monastery's herb garden to mark the Millennium of "Wellminster" Cathedral. But almost instantly I recognized the true filming location - it was shot entirely in and around Chichester Cathedral! I really enjoyed seeing all the sights on TV that I had just seen in person yesterday. And to think that before then, none of it would have been familiar....