This is the view we usually get of the town square, with The Peacocks (the newer shopping mall) on the left and the library on the right. Above them are theatres and cinemas. In the middle of the square is a World War I memorial.
If I cross to the opposite corner (where the pancake race started yesterday) and turn around, Christ Church is on the left and Wolsey Place (the older shopping mall) is on the right. A farmers' market takes place in the square every third Thursday and fifth Saturday. There are also special events throughout the year, such as French, Italian, and craft markets.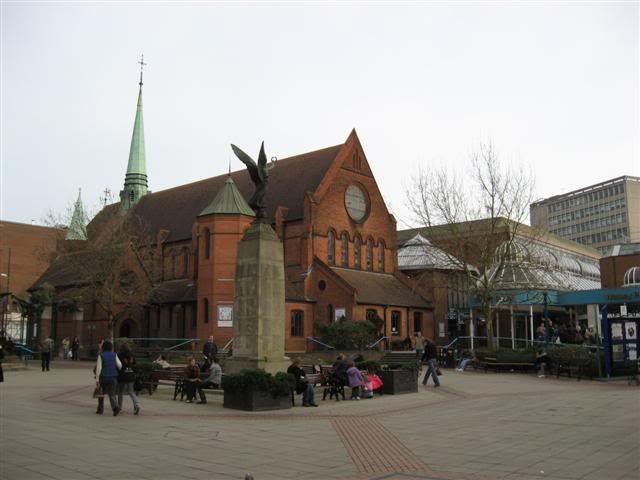 This path leads to the Basingstoke Canal, but first you reach the civic offices, and the building in which they are housed bears the Woking coat of arms.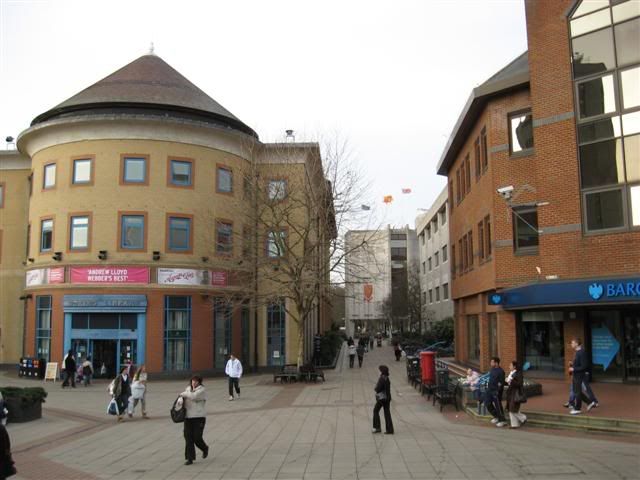 Here's far more information than you wanted to know....
It is made up of extracts from the arms of past holders of the Manor of Woking. The cross forming the centre is that of Edward the Confessor, and the red and gold colouring is taken from the coat of arms of the Bassett family, to whom the Manor was granted by King John. Following the death of Aliva Bassett in 1281, the manor was passed to her son, Hugh le Despenser. It is from the coat of arms of the Despenser family that the frets in the second and third quarters were taken. The fleur-de-lis in the first and fourth quarters were taken from the Beaufort coat of arms, the Manor passing into the possession of the family in 1416. Margaret Beaufort was the mother of Henry VII and the grandmother of Henry VIII. She lived at Woking Palace, and her grandson also resided there from time to time while he was king.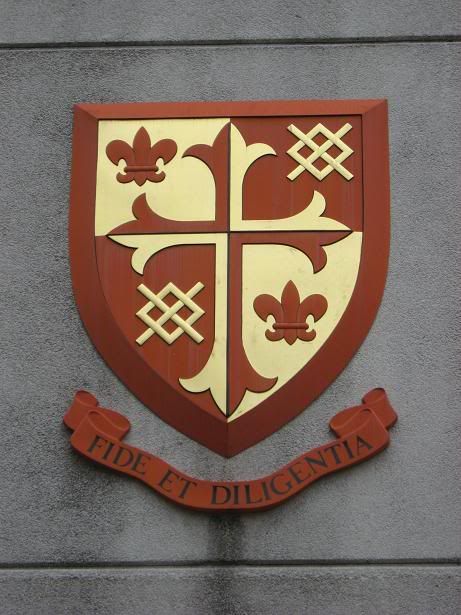 "By faith and diligence"