Basketball is slowly - very slowly - gaining popularity here. The Woking Blackhawks are a club team that play at the Leisure Centre on Friday nights. At the start of the weekend we each paid our 80 pence ($1.60) entrance fee, and joined several dozen others in watching the boys defeat the league leading South Bucks Comets, 72 - 56. Just for comparison, an adult ticket to a Woking Cardinals football match costs 12 pounds ($24), and attendance averages around 1500.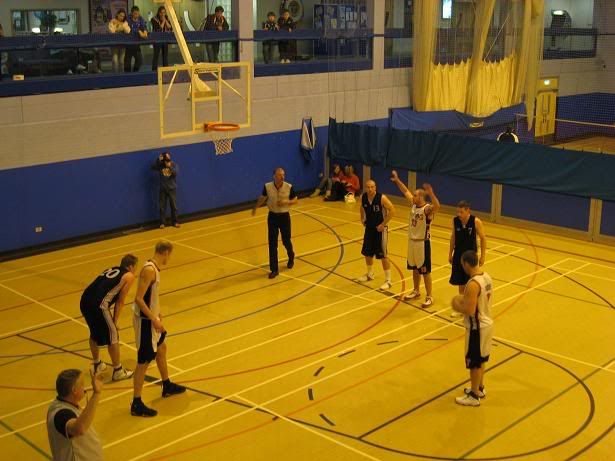 Tip off was at 8:15, and when we arrived, 5 badminton courts were in use on the other side of the gym. (See above.) Then at 9:00 the nets came down, and out came the goals for indoor football. (See below.) So during time outs and between 10 minute quarters, we had something else to watch!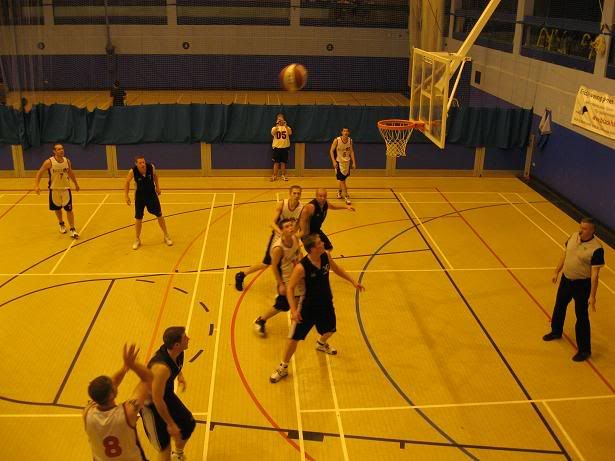 We closed out our weekend with the Super Bowl. Broadcast live on BBC2 (commercial free), it ran from 11:30 pm until 3:00 am. Chris watched the kick off, and Dave made it through the first score. I watched until the bitter end. Fans here probably sympathized with the Patriots, because England was upset by Wales on Saturday in the first round of the Six Nations rugby tournament. England came out strong, only to self destruct in the second half. It was their first loss to Wales at Twickenham in 20 years. Ouch. Play continues for the next 4 weekends.