It all starts with a bike ... one bike ... all you need is one bike [ can you sing that last line to the Manilow song `One Voice'?
This is Chris' bike. We got it from an add in the paper for all of 35 quid!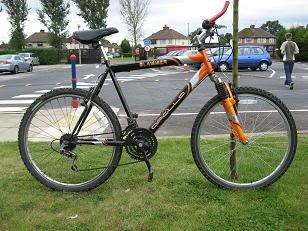 I don't have bike :( but Chris (from kings) was kind enough to loan me hers.
Getting bikes to London is easy on a Sunday. They are allowed on the Train.
Except from Woking on 23 September when they are doing track work. Oh yea, you can't take a bike on the replacement bus service.... Ok, so Chris started riding toward Weybridge where the train started on Sunday. I got on the bus. Funny thing about West Byfleet, if it is early in the day, and you're not paying attention, and you are in a strange land, 'West Byfleet' can sound a lot like 'Weybridge', so off the bus I got. Soon discovering my mistake, I returned to the bus stop and waited. The next bus came and almost passed me right by. After flagging it down, the fun began. When I got on I entered the twilight zone, for on the bus were the same people as when i got off. Apparently, I was not the only one lost.
Well, I finally got to the train station, found Chris and headed to Chris's place. After picking up the loaner, it was off to the festival! Can you find Chris?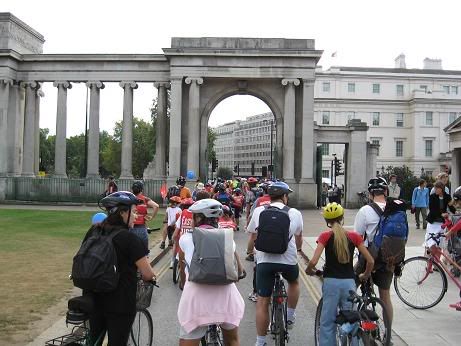 He is not in the picture, so my guess is no :)
Here we are riding with 40,000 of our best bike riding friends.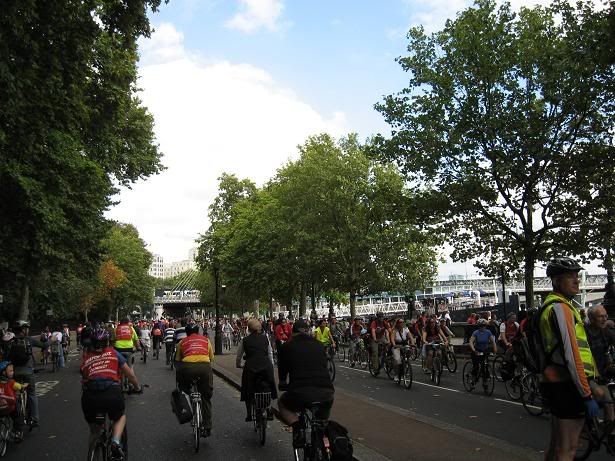 we actually extended our ride by heading out to Clapham Common (one of the outlying starting
areas). All this riding of course works up an appetite, so we left our bikes at the rack and headed to the free sandwich tent.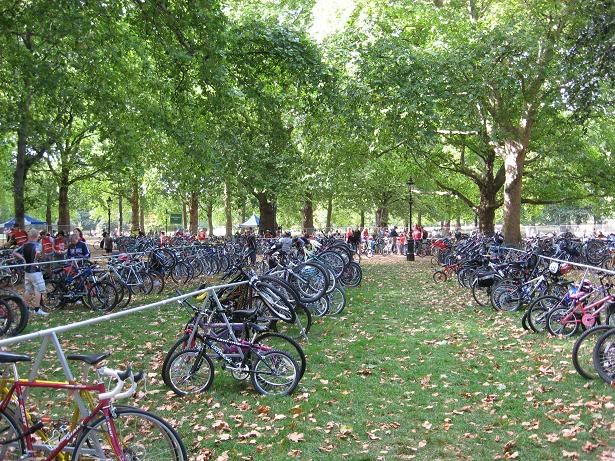 Sorry I didn't get a picture of the mad house sandwich grab. Chris and I finished off 4 of them (not 2 and 2 though) and headed home. Quite a Sunday!
For the curious http://www.londonfreewheel.com . Oh and for the unaware
hovis
make good bread!