When we visited Hillfield Hall on Thursday evening, the owner of #3 came out and asked if she could help us. Even though the land is now private property, we were the third group of descendants to show up since she bought her residence less than 2 years ago. After a slightly gruff start (I'd be wary of trespassers also), she encouraged us to visit St Alphege Church (which we were planning to do), as well as the local history section of the library (which we hadn't before considered). She even noted that she had lived in Solihull for 26 years, and had never eaten at Hillfield Hall when it was a restaurant, but now wished she had!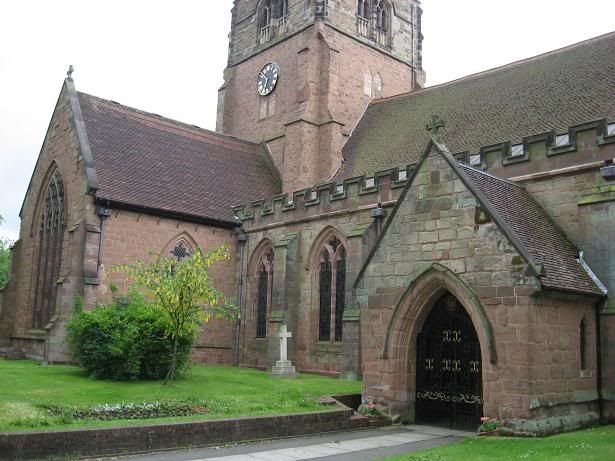 We visited St Alphege Church on Friday morning. Between the north porch (right) and the north transept (left), you can see 2 nave windows. The one on the left looks into St Thomas a Becket's Chapel (below). This used to be the location of the Hawes' family pew. It was not the ideal place to view a service - the stained glass panel on the right was formerly a small opening through which to look. However, it was the ideal place - in front of all the other pews - to emphasize your wealth and status.
Above the stained glass panel is a Jacobean monument containing a brass, dated 1610, to William and Ursula Hawes. It was restored in the 1990s by American relatives. We found a copy in the Solihull library that was easier to read, primarily because we could get closer to it!
The Hawes' coat of arms is on the left, and the Colles' coat of arms is on the right. They also appear in the church guide book, so we searched throughout the rest of the building and found them once more - in colour!