We did it! We got to Scotland in October, Northern Ireland in April, and Wales in May. Thus, we've accomplished our goal of visiting all 4 countries in the United Kingdom of Great Britain and Northern Ireland during our stay in England.
Wales is known for its castles and beautiful scenery, but we wanted something different. Our choice was the Big Pit National Mining Museum on the outskirts of Blaenafon. It was a working coal mine from 1860 to 1980, and Welsh miners now lead groups on underground tours. Big Pit is a relatively shallow mine - our descent in the pit cage was only 300 feet. Here are Dave and Chris "kitted up" and ready for our tour.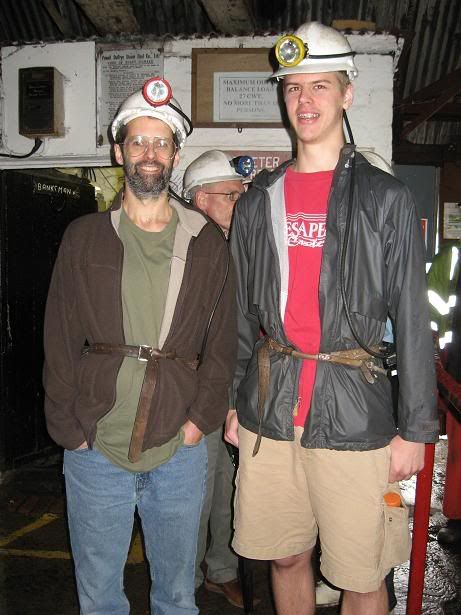 The kit was heavier than I expected it to be. Note the small silver box strapped around each person's waist - that's a gas mask. Obviously, items such as cigarettes and matches are forbidden underground. But dry cell batteries can also produce a spark, so cameras, watches, mobile phones, and car remotes all had to remain behind. Our 60 minute tour was a fascinating and sobering glimpse into one of history's toughest occupations.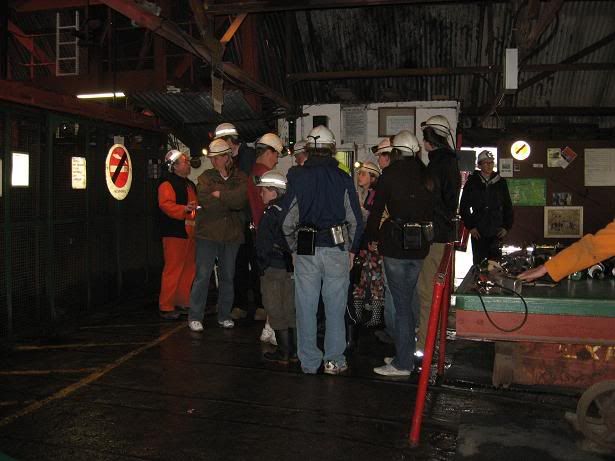 May 28th was a wet Wednesday in Wales. It was raining when we arrived at Big Pit, and raining when we left. However, once our underground tour was over, we had at least an hour of dry weather to explore the area. This distinctive tower is Big Pit's symbol. It's the winding head, and the 2 cables on the left move the pit cages up and down.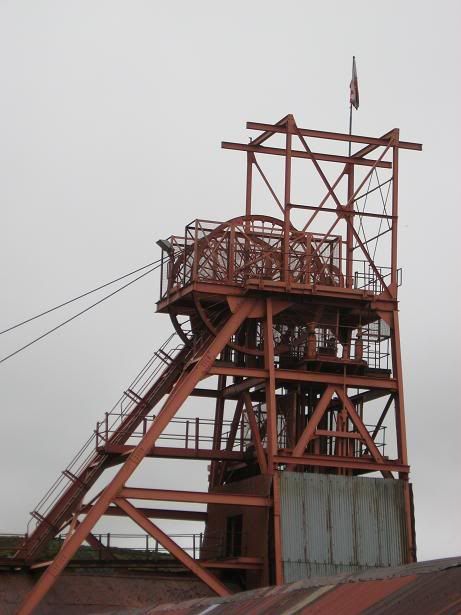 Here's a nice view overlooking the site, with Blaenafon in the distance. Had it been a nice day, we would have explored the village and its ironworks also. But it wasn't, so we didn't. Instead, we headed into Cardiff for the night.