On Wednesday, Dave and I saw
Doctor Dolittle
at the New Victoria Theatre here in Woking. The title role was played by Tommy Steele, who is widely regarded as Britain's first teen idol and rock 'n' roll star. He then went on to become the London Palladium's all time biggest musical star. Now a mere 71 years young, he still puts on an impressive song and dance show. Throughout the performance he was referred to as "The Doctor," but Dave and I both associate that title with our many years of watching
Doctor Who
. This classic BBC series ran for 26 seasons (1963-1989), and was revived in 2005. US shows are broadcast months later in the UK, and vice versa. So imagine how exciting it was to watch the real time premiere of Season 4 back on 5th April at 6:20 pm on BBC1!
On Thursday, Dave made cookies for Mark's 42nd birthday. He had a cookie cutter of a Dalek - one of The Doctor's arch enemies - and he had ingredients for sugar cookies.
What he didn't have was a rolling pin. However, a can of London Pride makes an excellent substitute....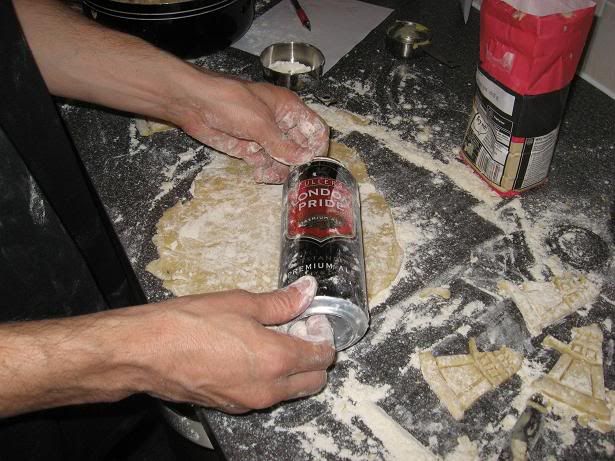 The Dalek cookies turned out well. Dave took at least 42 of them into work on Friday (plus candles for Mark), and left some here. They were a big hit at both locations.