The letting agents call it the reception room. Basically, we do just about everything but sleep in it. (I take that back - without her own bedroom, Erin
does
sleep in it!) Here you see the living area, with Erin and her trusty computer. In the corner between the couch and the love seat Dave is slowly putting together his "office," and he will soon work over there on the days that he doesn't go into London.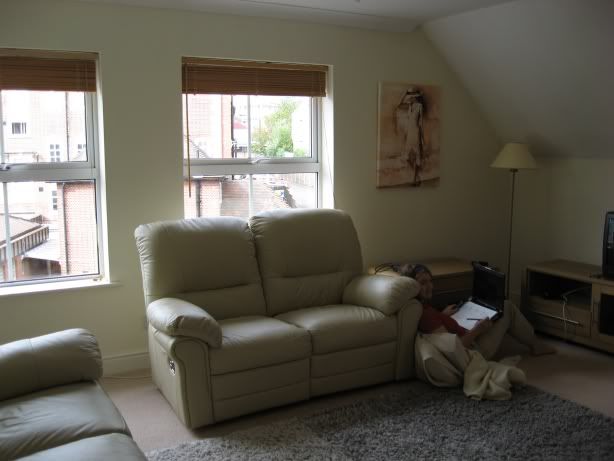 Meanwhile, Dave can usually be found on the other side of the room, either as shown below or in the dining area. The table is not very sturdy, and it only came with 2 chairs, but in general we are very happy with the contents of our furnished flat.
Finally, at the end of the room we have the cooking and cleaning area. The middle cabinet on the left contains a single mini-machine that both washes (quite well) and dries (very poorly), so I have followed the lead of the locals in using a drying rack. The kitchen came with variety of mismatched items, so we have had fun purchasing things from the "first home" series at a nearby store. We now have matching dishes for 4! Living here is going to be a big test for the queen of procrastination. (That would be me.) Limited laundry space means that I can't let the dirty clothes pile up. We have a dishwasher, but since we run out of dishes before it fills up, I wash them by hand. (Definitely beats ironing, in my opinion.) And without a car, I'm at the grocery store at least every other day, because I can only carry so much on the 10 minute walk home. Think these habits will continue back home? Nope, me neither....