Dave had a conference in Paris, so all three of us took advantage of it. We boarded our Eurostar train on Friday afternoon, and headed toward the Chunnel. Many of the passengers were on their way to the England vs. Tonga Rugby World Cup match in Paris that night, and were already in party mode. The bar ran out of beer halfway through the journey - bet that doesn't happen very often! After checking into our hotel, we ate dinner at a nearby restaurant that was showing the match. (England won, but the Parisians were obviously cheering for Tonga).
Saturday was our one full day in Paris, so we made the most of it by leaving the hotel at 8:30 am, and not returning until 1:00 am. We took a Segway tour in the morning, climbed La Tour Eiffel in the afternoon, and took a bike/boat tour that night. (Adam was our wonderful guide for both tours. He's from Madison, WI, which is where both Dave and Chris were born.) What's that in the middle of the Eiffel Tower, you ask? Why, it's a giant inflatable rugby ball!
On Sunday Dave headed off to his conference, while Chris and I slept in. Once we finally got moving, Chris shared his baguette with the pigeons at Le Jardin du Luxembourg.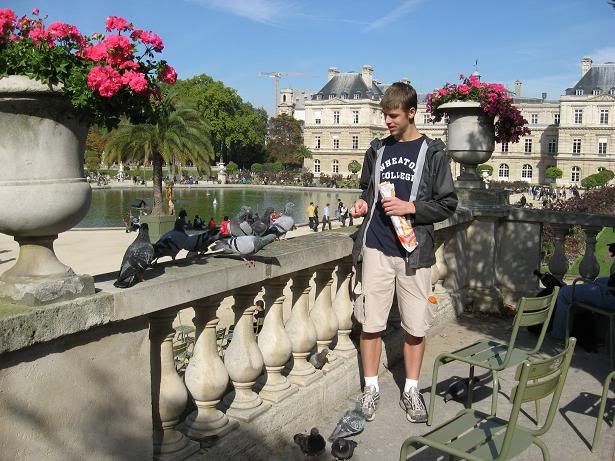 We spent the afternoon at Le Musee des arts et metiers, which is the oldest museum of science and technology in Europe, and was described in our guidebook as "a must for anyone with an interest in how things work." Our walk back to the hotel took us behind Notre Dame for Chris to get some better pictures of those flying buttresses. That evening we were boarding our train a mere 48 hours after our arrival at Gare du Nord on Friday. But we'll be back....