Supposedly they're everywhere in London...if you know where to look. But it often involves trendy restaurants or nightclubs in the wee hours of the morning, so I haven't been very successful. (Especially since I haven't tried.) Yesterday I was walking along the South Bank of the Thames - on my way back to Waterloo Station - when I came across this scene.
It's a movie set for Last Chance Harvey, due out in 2008 or 2009. Stars include Dustin Hoffman and Emma Thompson.
Filming was actually
not
in progress when I went by, so I won't be making my Hollywood debut. Instead, Dustin (on left, looking down) and Emma (on right, in profile) had just finished looking at some scenes on the monitors. Someone made an announcement that 3 minutes remained until sunset, so apparently nature determined when filming would resume.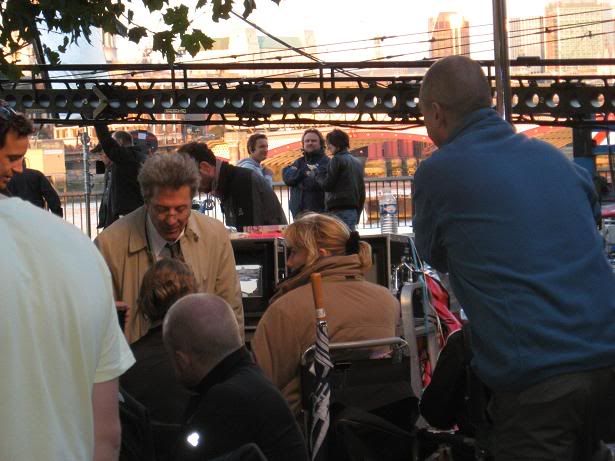 I didn't hang around, because I wanted to be on my train before it got dark. But you just never know who you'll see when you're least expecting it. And I do like Dustin Hoffman....