Not to be confused with the Mayor of London (Ken Livingstone), the Lord Mayor of the City of London (David Lewis) began his one year term last Saturday. Here's the start of the parade.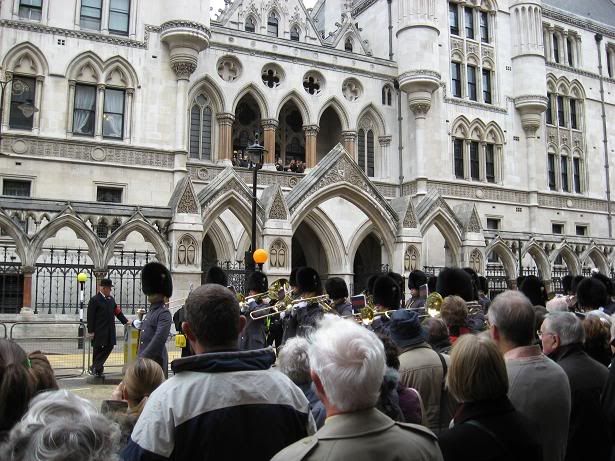 It included 2000 servicemen and women, 200 vehicles, 66 floats, 24 marching bands, and 21 carriages. There has been a Lord Mayor since 1189, and a Show since 1215. The procession used to take place on the River Thames, so that is how the term "float" came about. New to us were the City's guardians - Gog and Magog.
At last the Lord Mayor Elect passed by in the State Coach. He was on his way to the Royal Courts of Justice (in the background) to take his oath of allegiance to the Sovereign.
Once the parade was over we walked the streets before they reopened to traffic. Chris had no trouble keeping pace with the police officer on horseback! We visited the Museum of London that afternoon, and then grabbed a bite to eat before the fireworks display on the Thames that evening. Always the optimist (Ha!), I discovered one advantage to these short days. Fireworks began at 5 pm!